INKAS® Releases New Armored Vehicle Augmented Reality App
September 28, 2018

Posted by

admin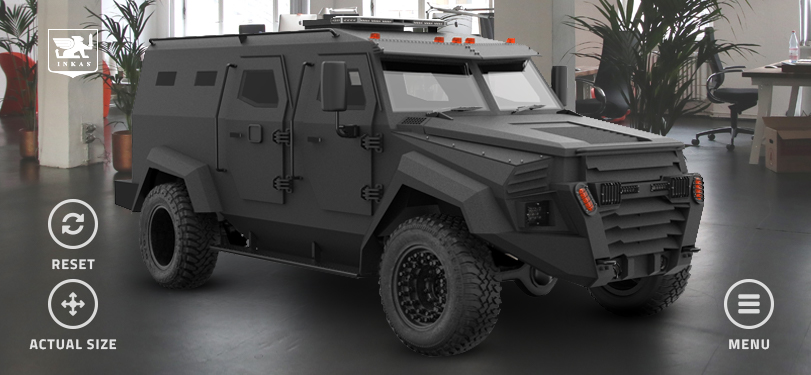 The armored vehicle industry is joining the ranks of Snapchat and Instagram by integrating augmented reality (AR) as a new way to entice its customers. The newly launched innovative INKAS® app allows anyone to view the INKAS® Sentry MPV and INKAS® Sentry APC in a brand new way. The new app available for download in the App Store and Google Play — is the first of its kind in the industry and gives anyone the ability to have a 3D view of INKAS® vehicles anytime, anywhere.
AR technology is everywhere. What began as something only found in sci-fi movies has quickly become a fast-growing trend in the worlds of social media, video games, healthcare, and even interior design. With AR, INKAS® offers anyone the ability to review new products online in a 3D, 360° environment—whenever and wherever they want. Moreover, the vehicle's interior can be viewed from the inside by simply stepping into the vehicle. Not only does this give interested parties the flexibility to shop around at their convenience, but they can also envision the vehicles in the real world in real time.
One of the exciting features of the new INKAS® app is the ability to modify the vehicle's finishing with spray paint to make a custom design. This adds some fun to the "window shopping" experience, and it also allows users to see how color changes the look and feel of the vehicle. Moreover, the user can choose to explore the vehicle's protective features which get highlighted when the Features mode is activated, providing users with both visual cues and descriptions of features such as "reinforced ballistic glass", "blast protection" and others.
AR is popular today because it allows anyone to change and manipulate their own reality. It alters a user's environment and gives them an immersive experience that a simple webpage can't provide. Bringing this technology to the armored vehicle world is an exciting way to give viewers more control over their buying experience and allow them to customize and even snap and send designs to others.
Comparing and shopping around for any type of vehicle can be time-consuming, but with the new INKAS® AR app built in partnership with Augmently Inc., anyone can view some of the best armored vehicles on the market from the comfort of their own homes or offices. Download the app to your phone today from the App Store or Google Play and watch out for future releases across all platforms.