INKAS® Proudly Receives VPAM VR7 Certification for its Armored Toyota Land Cruiser 300
June 15, 2022

Posted by

admin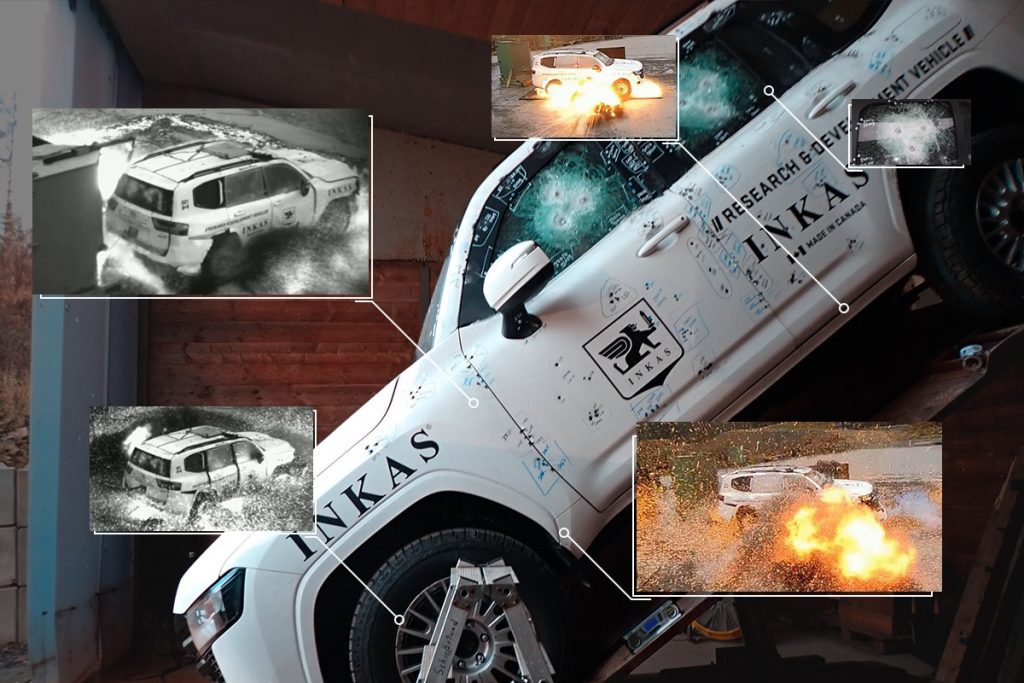 INKAS® Armored Vehicle Manufacturing is proud to announce that its armored Toyota Land Cruiser 300 has officially received VPAM VR7 ballistic and ERV2010 blast certifications – exemplifying the precision engineering and in-field performance that INKAS® vehicles are renowned for. Designed with 360-degree perimeter protection, INKAS® armored Toyota LC300 delivers unparalleled protection for tactical teams, law enforcement, government officials, VIPs, and civilians alike.
In order to obtain the certification, the armored Land Cruiser 300 endured extensive ballistic testing, which specifically targeted the potential points of failure where the vehicle would be most susceptible to penetration during an attack. The INKAS® Armored Land Cruiser successfully proved its reliability in the field – withstanding over 780 rounds of ammunition from various calibre firearms, 6 roof-level hand grenades (DM51), 4 underbody hand grenades (DM51), 2 land mines (DM31) as well as a 15kg TNT (equivalent) explosion from a 2 meter distance.
"We're excited to demonstrate the high level of ballistic resistance of INKAS® vehicles," said Margarita Simkin, co-founder and chairwoman of INKAS®. "VPAM is the gold standard in testing the design and construction of armored vehicles, and this certification is a validation of the level of expertise of our engineering team and the cutting-edge manufacturing techniques that enable INKAS® to meet its exacting standards."
The VPAM standard ensures that the vehicle as a whole prevents ammunition and explosions from penetrating the cabin and provides full protection for all its passengers. INKAS® has successfully received certifications for VPAM BRV2009: VR7 Level, VPAM ERV2010, STANAG 4569 AEP Volume 2 as well as TÜV Homologation for registration in Europe (with rest of world available upon request). All certificates are available upon request. Additionally, INKAS® manufactures a BR6 version of the Land Cruiser which is ideal for civilian use.
For more information about the INKAS® VR7 Toyota Land Cruiser, please visit the VPAM VR7 Armored Toyota Land Cruiser product page.