The Future of Cash In Transit: INKAS®' Iveco Daily 6 Hits the Roads
February 28, 2018

Posted by

admin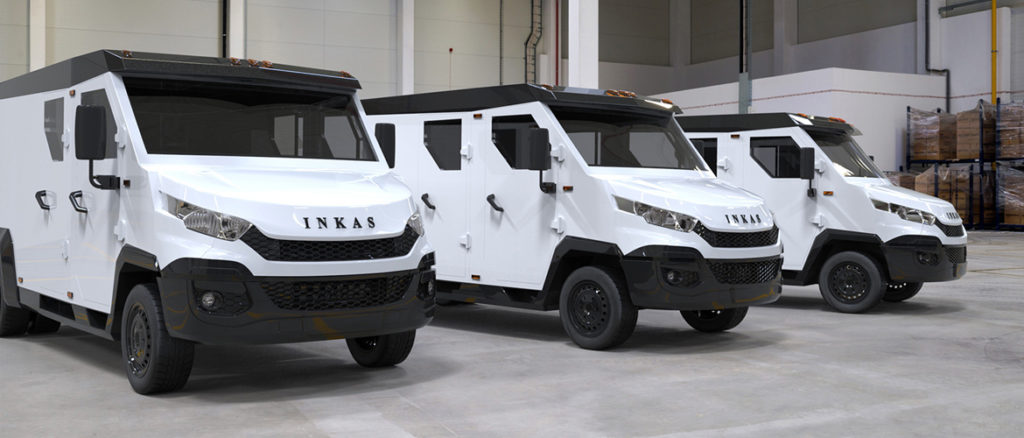 With a successful track record within European, African and South American markets, the unique cash-in-transit vehicle has been added to the INKAS® cash-in-transit fleet. Taking into consideration the increased number of mid-transport attacks and growing safety concerns, INKAS® has manufactured a secure and reliable vehicle designed to be used by financial institutions, merchants and related businesses on a global scale.
The IVECO accommodates up to three crew members in dual secure capsules with state-of-the-art security features. The vehicle features an advanced solenoid locking system providing quick and integrated locking and unlocking operations for all doors, the secure guard compartment, the vault and emergency escape hatch. To make cash management operations safer and to mitigate the risk of unpredicted scenarios, the guard compartment is completely isolated from the vault.
The futuristic finishes of the vehicle are conveyed through the smooth lines of the front bumper, elegant grill and stylish LED headlights. Being compact from the outside, the vehicle features a spacious driver and passenger compartment as well as a well-equipped guard compartment. In order to accommodate long-distance routes, the vehicle's seating is ergonomically-designed to reduce stress and strain on the body.
"We have built this truck for those who are looking for secure transportation of high payloads, ultimate maneuverability as well as top-tier performance characteristics," says David Khazanski, CEO, INKAS® Armored Vehicle Manufacturing. "The chassis was highly praised in the European market based on its capabilities and eco-friendly performance and we expect it to meet the same success trajectory on a global scale".
The IVECO cash in transit truck is powered by a 3.0L I80 diesel engine and produces 180 horsepower at 2,100 rpm. With a lower fuel consumption level and gas emission compared to same size vehicles in the market, the vehicle is ideal for those who operate in urban areas and want to reduce their carbon footprint.
The vehicle is equipped with ballistic armor providing a 360-degree perimeter as well as roof and floor protection for the guards and transported valuables. The initial batch of this model are armored to meet the BR6 ballistic protection level according to the CEN 1063 Standard, however, INKAS® offers custom armoring packages for this truck based on individual customer requests.
INKAS® provides an extensive range of cash-in-transit vehicles varying in size, operational capabilities and protection levels to meet industry regulations and standards. With extensive expertise in providing customizable solutions to financial institutions, government agencies and merchants worldwide, the company offers unique interior options, configurations and technological features to accommodate clients' requirements.