The INKAS® Infiniti QX80
October 29, 2015

Posted by

admin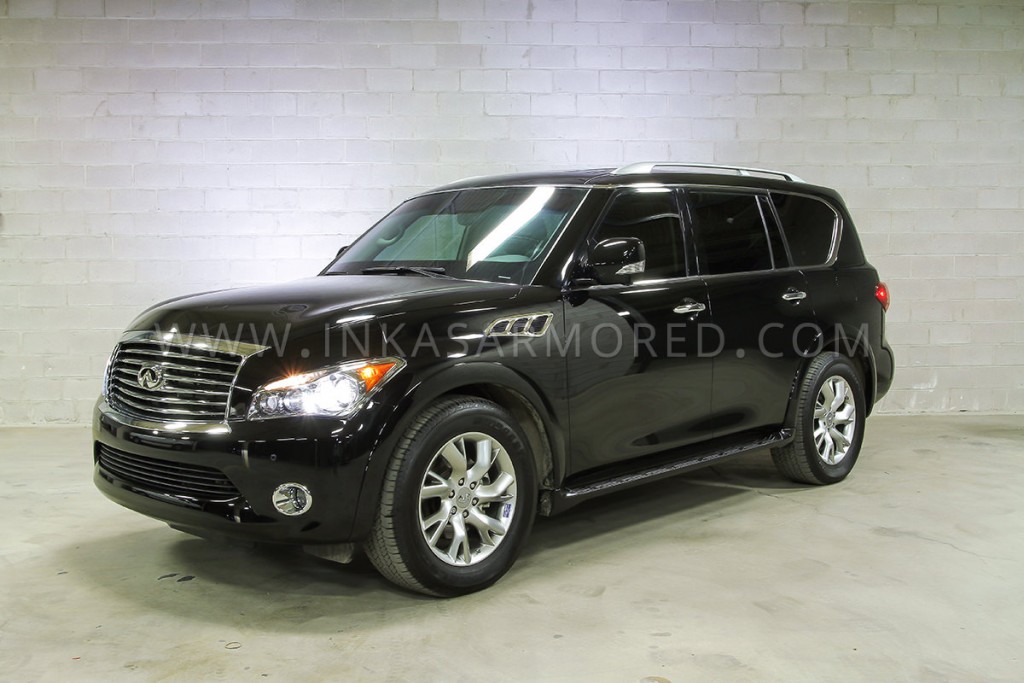 If you are looking for a tough SUV that was designed to hold precious cargo in a spacious interior, as well as handle any and all difficult security situations, then you have found the right match. Our Infiniti QX80 is capable of conquering any challenge that gets in its way, doing it all with a sense of style unmatched by most other models. Whether you are looking for something stylish to push the limits with or something tough to keep you safe, this spacious and secure vehicle can do just that.
Spacious interior
Not only is the interior beautifully-crafted with stylish leather seats, but it also has the capacity to fit 7. This means that you can transport large numbers of people or equipment in a vehicle that you can rely on. The luxurious-looking seats and console give you a sense of luxury rather than that feeling like you are in a dull transport vehicle.
Extra protection
This bulletproof SUV is capable of handling any situation that it finds itself in. It doesn't matter if you need to pump the gas to get out of a hot zone or handle some extra heat when the going gets tough, the Infiniti QX80 is there. Other specs include:
6L V8 400 horsepower engine
Complete passenger compartment protection
Reinforced suspension
Bulletproof glass
Runflat technology
Style
Just because you want to be safe doesn't mean you have to sacrifice look and style. Not only does it come with plush leather on the interior, but you will also get weather control, Bluetooth capabilities, iPod interface connection, and many more features.
The Infiniti QX80 is one of the toughest, most stylish and safest SUV's that we offer, and it comes complete with a number of standard protections and custom options that make it capable of handling any situation you might find yourself in. Don't hesitate to contact us today if you are in the market for a great security SUV. INKAS® is the most trusted name in the industry.