New Armored 2020 Lincoln Navigator L Built by INKAS®
April 13, 2020

Posted by

admin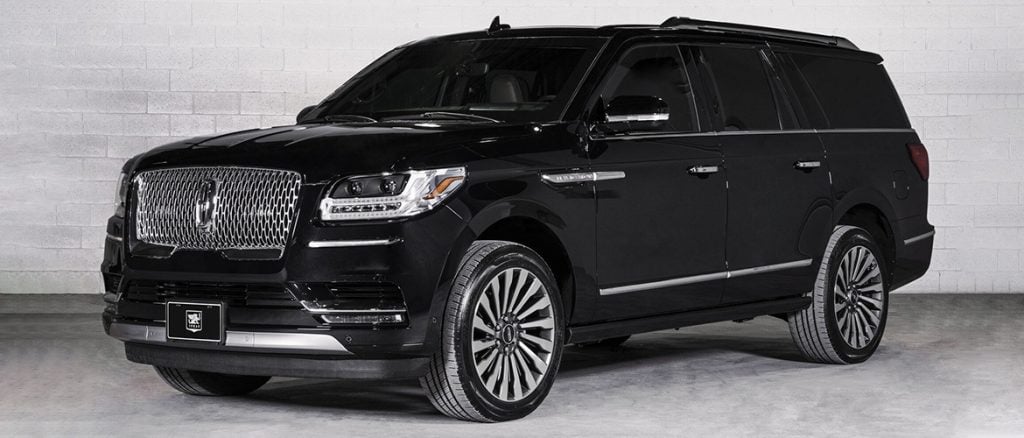 INKAS® is excited to add the exclusive Lincoln Navigator L to its wide range of armored luxury vehicles. In addition to its robust performance capabilities and powerful security features, the vehicle offers a modern exterior design matching OEM characteristics, and a lavish interior layout available with luxurious customizations upon request.
Built to the exacting standards of INKAS®, the armored Lincoln Navigator L is an all-around luxury vehicle. Making use of the reliable and spacious long wheelbase, INKAS® Armored Lincoln Navigator L offers a comfortable passenger compartment equipped with premium leather seating, head-up display, adaptive LED headlamps, split arm rests, a rear seat entertainment system, a Revel® Ultima 20-speaker surround sound system, and comfortable power-reclining captain seats featuring massage, heating, and cooling capabilities. Furthermore, the model features approach-detection technology, illuminated running boards, and Active Motion® front seats to ensure a safe and smooth drive.
"Amidst these uncertain times, INKAS® continues to develop innovative solutions in order to protect human lives in the way that we best know how," said David Khazanski, CEO of INKAS® Armored Vehicle Manufacturing. "We are thrilled to add the new armored Lincoln Navigator to our extensive line of luxury vehicles. This vehicle is truly exceptional both in its security features and its level of comfort for the driver and all passengers."
The armored Lincoln Navigator L is the perfect choice for luxurious, reliable, and comfortable transportation. The vehicle is equipped with a powerhouse twin-turbocharged 3.5L engine, delivering 450hp and 510 lb-ft of torque. Along with this powerful engine, it features six driving modes to deliver performance that matches both your mood and road conditions. In addition to its impressive force, it comes fully equipped with adaptive cruise control, adaptive LED headlamps, enhanced active park assist, a 360-degree lane keeping system, and a pre-collision assist system with automatic breaking.
The vehicle features state-of-the-art armoring solutions including full-perimeter ballistic protection of the vehicle's ceiling and floor, premium multi-layer ballistic glass, upgraded suspension, runflat tires, emergency lights, as well as a siren and public address system to be used in case of emergency. Meeting international standards and requirements, this armored Lincoln Navigator delivers BR6-level protection that secures the vehicle against attacks from 7.62x51mm or .308 Winchester FMJ ammunition, and withstands explosions from up to two hand grenades detonated simultaneously. Coupled with INKAS® integrated security solutions, the armored Lincoln Navigator L is one of the most secure SUVs to be driving.
INKAS® vehicles are proven to provide security and comfort to its passengers, and the new Lincoln Navigator L is no exception. Available nationwide, the company offers a wide array of safety technology and features, in addition to its various armoring packages. For more information on the INKAS® Armored Lincoln Navigator L, please visit the vehicle page or watch the video.