Newly-Unveiled Sentry MPV Featured at CANSEC 2018
June 4, 2018

Posted by

admin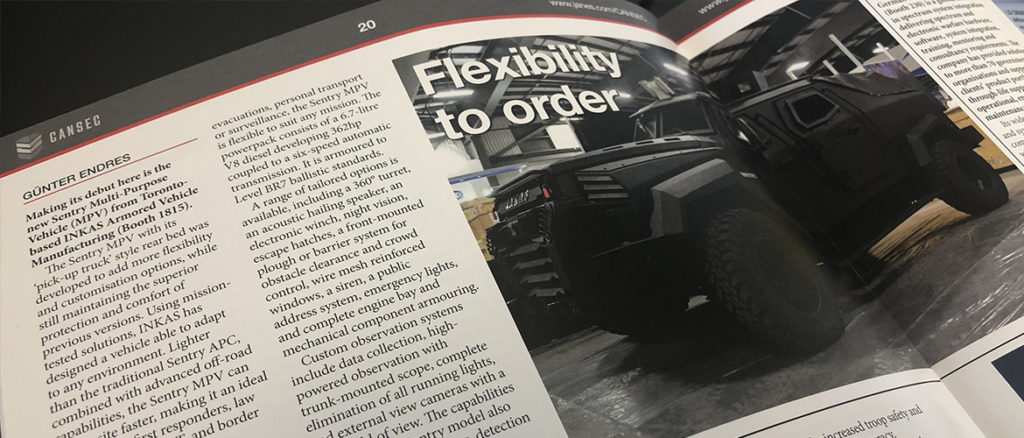 The Sentry MPV with its 'pick-up truck' style rear bed was developed to add more flexibility and customisation options, while still maintaining the superior protection and comfort of previous versions. Using mission-tested solutions, INKAS has designed a vehicle able to adapt to any environment. Lighter than the traditional Sentry APC, combined with advanced o -road capabilities, the Sentry MPV can get on site faster, making it an ideal solution for first responders, law enforcement, SWAT, and border control agencies.
The new Sentry can accommodate four to six people including the driver, and the configurable seating arrangements allow occupants to operate the MPV while maintaining all tactical positions. Whether it is used for transport and maintenance operations, rescue and medical evacuations, personal transport or surveillance, the Sentry MPV is flexible to suit any mission. The powerpack consists of a 6.7-litre V8 diesel developing 362hp coupled to a six-speed automatic transmission. It is armoured to Level BR7 ballistic standards.
A range of tailored options is available, including a 360° turret, an acoustic hailing speaker, an electronic winch, night vision, escape hatches, a front-mounted plough or barrier system for obstacle clearance and crowd control, wire mesh reinforced windows, a siren, a public address system, emergency lights, and complete engine bay and mechanical component armouring.
Custom observation systems include data collection, high-powered observation with trunk-mounted scope, complete elimination of all running lights, and external view cameras with a 360° field of view. The capabilities of the newest Sentry model also include signal jamming, detection of firing sources with positive identification in under one second, and protection against nuclear, biological and chemical weapons.