INKAS® Introduces Prestigious Line of VIP Limousines based on the Mercedes-Benz Sprinter
October 6, 2021

Posted by

admin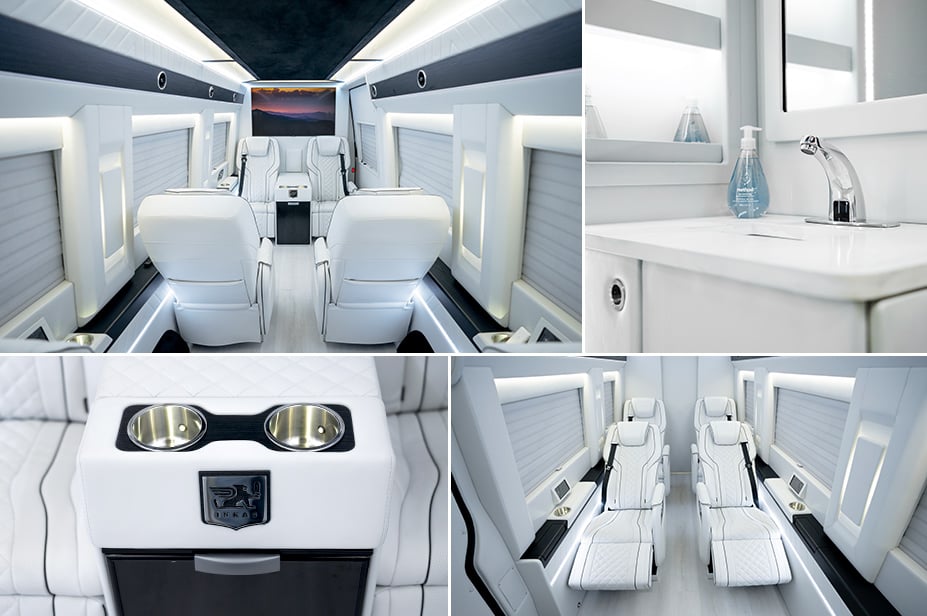 INKAS® is proud to announce its new line of ultra-luxury VIP limousine buses, built upon the highly sought-after Mercedes-Benz Sprinter, to deliver the ultimate passenger experience for executives, professionals, and VIPs. True to INKAS® signature style, this line of limousines features a sleek and minimalistic interior, without compromising on security and high-end functionality.
The luxury limo's passenger compartment delivers ultimate comfort, while easily transitioning into different configurations to quickly adapt from work mode to leisure travel. The layout features 4 captain seats and 2 fixed seats, with the flexibility to swivel the seats in the middle row by 180º to face the rear. Each passenger seat comes with a built-in control panel for individual heating and cooling, massage functionality, motorized shade control for the windows, as well as an ottoman or footrest. The motorized front console contains a built-in coffee bar and a refrigerated storage unit that's ideal for beverages.
The motorized hide-away tables, charging stations, and 6 fully-adjustable lighting zones make it the ideal workspace on-the-go for executives and professionals. Easily transition from work to entertainment by creating a relaxed atmosphere with 256-colour ambient lighting, and premium video and audio on a full-size LED SmartTV with AppleTV and Google Chromecast streaming, and the 400W sound system with Dolby Atmos® capability for an exceptional surround-sound experience.
The full-perimeter CCTV camera system gives you a 360º view of your surroundings, which can be displayed directly on the SmartTV, while the intercom between the driver and passenger compartments makes it simple to communicate route changes and requests. The turbo diesel 3.0L V6 engine with a 7-speed 7G-TRONIC transmission ensure a smooth ride throughout.
"With this new line of limousines, we've taken the high-end features that INKAS® limousines are renowned for, and packaged them into new top-of-the-line models," said Margarita Simkin, Chairwoman of INKAS®. "As a global leader in our industry, we're proud to make these luxury vehicles available in both armored and unarmored versions, 100% in-house." She adds, "the armored versions of INKAS® Mercedes-Benz limousines are available up to the CEN 1063 BR6 level to withstand high-power assault rifles, as well as detonations below the vehicle floor – ideal for situations where secure transportation is crucial."
The armored Mercedes-Benz Limo can be customized with additional tactical features to create a secure office on wheels. Available features include FLIR® night-vision perimeter cameras, military-grade chemical filtration systems (CBRN), satellite phone integrations, siren/PA systems, strobe lights, escape hatches, run-flat tires, automatic fire suppression system for both engine bay and internal cabins (front and rear), and more.
The luxury limousines come with a 100% INKAS®- designed, built and upholstered interior, which features premium leather seating, open pore wood trim throughout, and heavy-duty flooring – with customizable colour palettes, materials and features to meet each client's preferences. Available add-ons also include a built-in, fully-equipped lavatory at the rear of the vehicle for passenger convenience.
The new INKAS® Mercedes-Benz Limobuses are now available for worldwide delivery to all major seaports, as well as airfreight upon special request. The vehicles range in price from $200,000 USD to well over $500,000 USD, depending on specifications, features and integrations required. For a vehicle walkthrough, please watch the video here. For additional information, visit the armored limo webpage here, or the unarmored limo bus webpage here.
About INKAS® Armored Vehicle Manufacturing
INKAS® Armored Vehicle Manufacturing is a leading Canadian-based company that specializes in the design and production of a wide range of armored vehicles, including executive SUVs, luxury sedans, special purpose military vehicles, personnel carriers, cash-in-transit vehicles, and more. Since 2000, INKAS® Armored Vehicle Manufacturing has been providing armored vehicles for banks, law enforcement agencies, corporate clients and individuals all over the world.
For more information, please contact:
INKAS® Armored Vehicle Manufacturing
Tel: +1 416-645-8725
Email: [email protected]
https://inkasarmored.com
Connect with us on Facebook, LinkedIn and Twitter.