INKAS® Armored Vehicle Manufacturing Unveils Its First Electric Prisoner Transport
August 2, 2023

Posted by

Ilan Y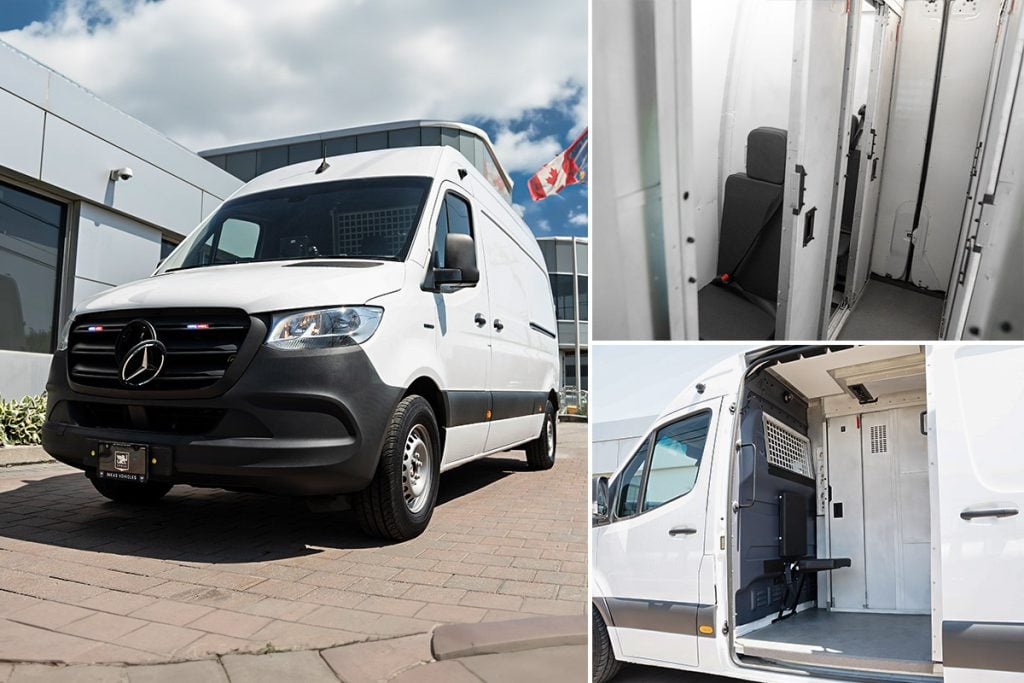 INKAS® Armored, a globally recognized leader in armored vehicle manufacturing, proudly announces the much-anticipated debut of its first Prisoner Transport vehicle based on an electrified platform. This vehicle, built on the Mercedes-Benz Sprinter, sets a new standard for security, sustainability, and reliability in the industry.
Amongst other features, the INKAS® Prisoner E-transport features a high-security locking system, ensuring absolute containment once the doors are sealed shut, leaving no possibility of escaping or tampering. Additionally, the vehicle is equipped with fire-resistant flooring, ensuring the utmost safety of all occupants in the improbable event of a fire incident.
To fortify surveillance and communication capabilities, the van is thoughtfully equipped with GPS tracking, 360-degree cameras with a "live look-in" feature for real-time monitoring, and a sophisticated DVR system with an integrated UPS unit running off of a secondary power source. Furthermore, the inclusion of an intercom system facilitates clear and efficient communication between the crew and prisoner compartments, streamlining operations during transportation.
In alignment with our unwavering dedication to providing a humane and secure transportation experience, the INKAS® Prisoner E-transport incorporates injury-proof lighting and a dedicated climate control system, ensuring the well-being of both officers and prisoners throughout their journey.
"At INKAS®, we consistently stay ahead of the curve, pioneering engineering excellence, and security is ingrained in our very essence. With the INKAS® Prisoner E-transport, we reaffirm our dedication to innovation and green energy, and we look forward to making a positive impact on the future of secure transportation".

Margarita Simkin, Chairwoman
INKAS® Mercedes-Benz Sprinter | Electric Prisoner Transport
The interior is outfitted with easy-to-clean, durable, and washable materials, prioritizing stringent hygiene standards. Prisoners are seated facing forward, secured by a 3-point seatbelt and ECE-compliant seats, with ample room to accommodate individuals of varying sizes, ensuring their comfort and safety during transit. Accessibility options are also available with stow-away ramps and secure fix points for prisoners in wheelchairs.
The INKAS® Prisoner E-transport can be built on various platforms, and in this case, it was developed on the trusted Mercedes-Benz eSprinter RHD configuration. Moreover, upon request, the vehicle can be armored up to a B6 Level, offering an unparalleled level of protection.
This groundbreaking vehicle is now available for ordering and can be exported to clients globally. For more information about this revolutionary vehicle, visit the vehicle page.