INKAS® Armored Riot Control Vehicle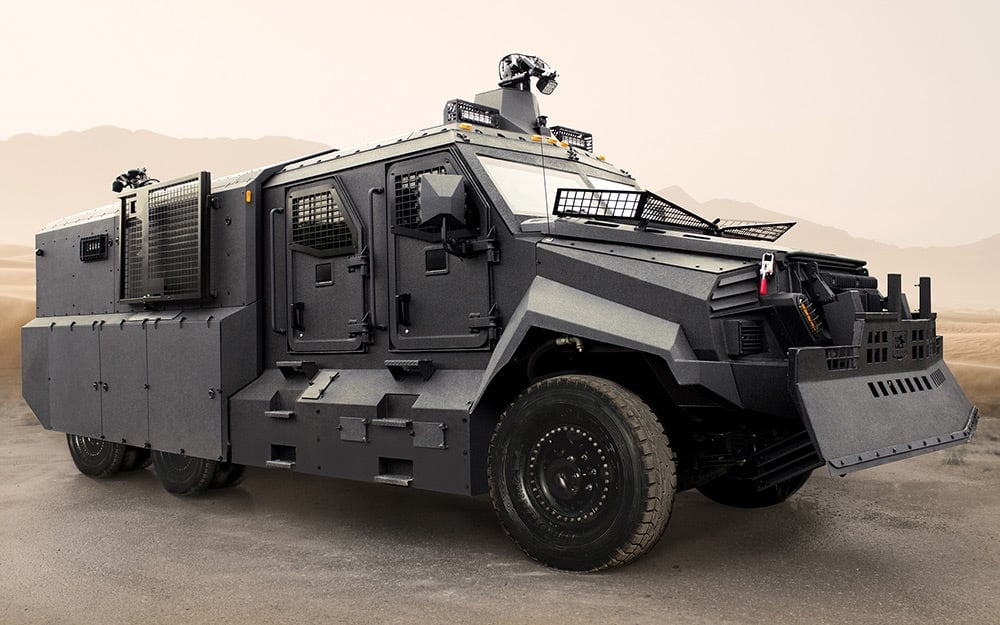 Riot control vehicles have specially designed characteristics and features to guarantee protection and mobility in the face of threatening social unrest and instability. The INKAS® Armored Riot Control Vehicle is a cost effective yet uncompromising solution to handle such situations. The vehicle is equipped with modern equipment and outfitting that are designed to provide reliable performance. Here are some of the features that make our Riot Control Vehicle infallible and impenetrable:
High-pressure water pumps: Also referred to as water cannons, the impact of these powerful water hoses goes up to a distance of some 50m and is normally tuned to be more or less the equivalent of a very strong fist blow. The water pumps have regulated nozzle pressure that can control the amount and distance of water is sprayed.
Fire extinguishing system: The system can be activated to extinguish fires within the vehicle or those that are burning on the road ahead of it.
Adjustable-height ram-bumper: The robust bumper protects the whole front section of the vehicle and is used for clearing barricades or heavier obstacles. In some cases, the front bumper/screen is replaced by a hydraulically-operated anti-barricade blade or plug.
Surveillance equipment with video recording capabilities.
Anti-ballistic power: Ensured protection of the crew against incendiary weapons invariably used against police whenever a demonstration turns into a riot.
Ergonomic considerations: These vehicles are mostly intended to transport and protect personnel. This includes enough internal space as to accommodate police officers with their cumbersome gear (shields, batons, riot vests, helmets, smoke/CS grenade launchers, etc.).
Run-flat tires: A nearly indispensable feature which will allow the vehicle to keep moving for 50km or more with no significant adverse impact on stability or driving control while leaving the danger area. The fuel tank can also be fitted with self-sealing lining or foam filling to prevent losses if punctured.
Standard police vehicle fittings such as flashing lights, loudspeakers and sirens are installed on the roof.
Ventilation: Efficient air conditioning system and powerful ventilation and filtering system with roof (intake) and floor-level (exhaust) fans. Should tear gas and other irritant agents should be set off next to the vehicle, those in it would not be affected.
Headquartered in Toronto, INKAS® Armored Vehicle Manufacturing is a leader in the state-of-the-art, lightweight armoring of a wide range of vehicles. For more information about the Riot Control Vehicle click here.