Prisoner Transport Made Easier & Safer with INKAS® Armored Vehicles
December 22, 2014

Posted by

admin
Comments Off

on Prisoner Transport Made Easier & Safer with INKAS® Armored Vehicles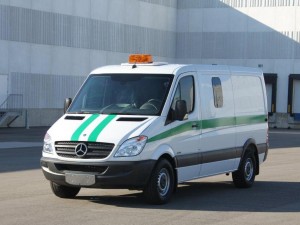 The task of transporting prisoners remains one of the most dangerous activities performed by security personnel. At INKAS® Armored, we are continuously researching new methods and technologies to help make this perilous job safer and easier for both the detainees and the officers.
When people think of prisoner transportation units, the first image that comes to mind is that of a box-like van with iron bar windows. Such an image couldn't be any further from reality! INKAS® Armored prisoner transport vehicles have a sleek and modern look and are virtually indistinguishable from regular vehicles. This is purposely done to provide added security for both the officers and the community.
The INKAS® Armored Prisoner Transport Vehicle based on Mercedes-Benz Sprinter is specifically designed for the secure loading, transport and delivery of detainees. The vehicle provides the highest standard of service delivery and ensures escorts are conducted in a safe, professional and humane manner. Meeting all domestic and international specifications, this vehicle is actively deployed in different regions of the world.
The armored prisoner transport van is completely customizable to client requirements. Here is an overview of some of the traits the INKAS® prisoner transport vehicle has to offer:
The vehicle contains state-of-the-art technology, including full CCTV and internal intercom devices, and can seat up to 6-8 people.
The vehicle has a partition between the driver and passenger area to separate prisoners from officers.
The vehicle is completely insulated with auxiliary heat and air conditioning systems.
The vehicle has security screens installed from the interior to cover the windows of the vehicle and provide privacy.
The vehicle can be used in different environments and terrains.
The vehicle is bulletproof and fully armored, rendering it able to tolerate 7.62mm ammunition.
A steady supply of power is delivered by a turbo diesel 3.0L V-6, pumping out as much as 188hp, attached to a 7 speed 7G-TRONIC transmission.
The vehicle has Bluetooth phone connectivity, USB connection and a Becker MAP PILOT Navigation system.
Optional extras include tailpipe protection, door hinge reinforcements and battery, ECU and fuel tank armoring.
INKAS® Armored Vehicle Manufacturing understands that each client will have specific needs that need to be met. This is why we make it our priority to listen to our clients' needs first, and then to customize the vehicle to their benefit. For more information about the company please visit https://inkasarmored.com/ +1 461 645 8725.