New Armored 2019 Cadillac Escalade "Chairman Package" by INKAS®
February 19, 2019

Posted by

admin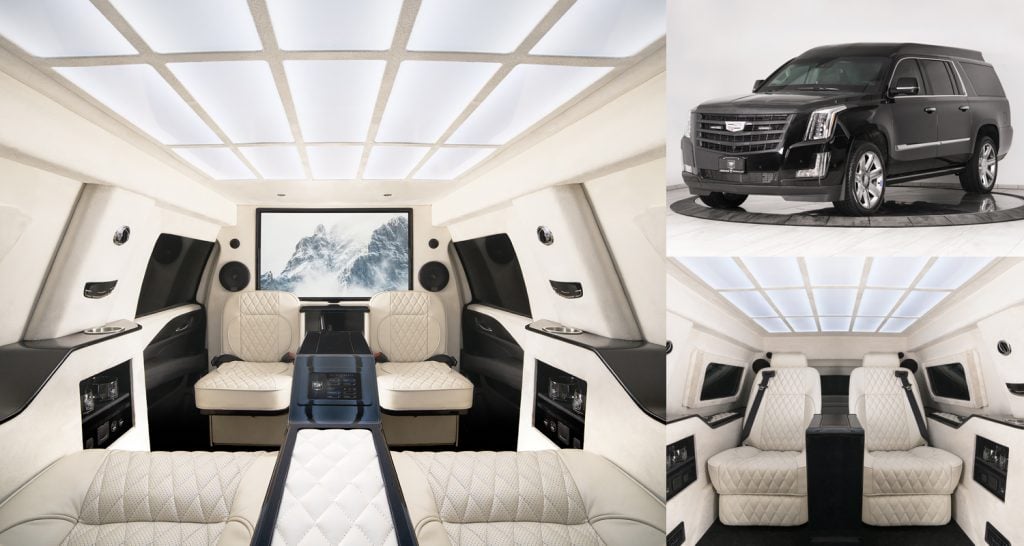 INKAS® Armored Vehicle Manufacturing is pleased to present its newly-released Armored Cadillac Escalade "Chairman Package". This 2019 model is equipped with a multitude of luxurious features and quality attributes that uplift any passenger to a presidential level of comfort. The Armored Cadillac Escalade has configurations ranging from the low $300,000's all the way to $500,000 USD.
Making use of Cadillac's long wheelbase (3302mm), the Escalade ESV provides a spacious passenger compartment available for conversion into an executive mobile office, luxurious VIP transport cabin, or a comfortable daily or long-trip carrier. The legendary Escalade still commands attention with its iconic physical appearance, daunting front grill, and sophisticated chrome accents. What's more, INKAS® has masterfully engineered a full 4" roof extension allowing for increased passenger comfort and ease of entry and exit.
The interior design of this extravagant INKAS® Armored Cadillac Escalade makes it stand out amongst luxury vehicles. INKAS® designers and engineers succeeded in including both classic elegance and modern appeal making use of premium Italian hides, Alcantara® Suedes, exotic wood paneling and a variety of comfort features including a mini-bar with liquor dispenser, air purification system, SmartTV, 4G LTE hotspot, advanced entertainment system with Apple CarPlay and Android Auto integrations and a 16-speaker setup. To highlight the interior comfort and charm, the "Chairman Package" vehicle includes power-reclining captain chairs featuring power ottomans, massage, heating and cooling capabilities with in-vehicle lighting provided through the INKAS® DayLight™ headliner system – designed to mimic the exact lux of natural daylight in order to promote a state of well-being.  Perimeter security is maintained by way of a 360° closed-circuit camera system, with an on-vehicle PVR as well as cloud backup functionality. Additional options such as biometric gun safes, satellite TV and telephone systems, heavy-duty exhaust fans for cigar lovers, and evasive security features are available at buyers' requests. All electronic components found within the vehicle are controlled through an INKAS® designed touchscreen tablet system.
The armored vehicle displays powerful performance characteristics and is supported by a reliable drivetrain based on a 6.2-liter V8 engine mated to a 10-speed automatic transmission generating 420 horsepower and 460lb-ft of torque. To keep the original smooth road performance and high levels of maneuverability, INKAS® has equipped the vehicle with innovative composite materials that meet CEN 1063 BR6 levels of protection, while keeping added curb weight to a minimum. The entire perimeter of the vehicle's body is clad with certified and industry-leading armoring materials providing protection against attacks from 7.62x51mm or .308 Winchester FMJ ammunition and, moreover, is capable of withstanding an explosion of two hand grenades detonated simultaneously below the floor of the limousine. As an option, clients can choose to armor this vehicle up to CEN 1063 BR7 standards offering additional protection against armor-piercing ammunition. As included in all INKAS® standard armoring packages, the vehicle comes with additional protection for the on-board battery and electronic control modules, reinforced suspension components, door travel retainers, and heavy-duty run-flats installed on all wheels; not to mention high-quality, high-optics, ballistic glass.
INKAS® offers a plethora of options as it pertains to interior layouts, high-end materials, unique features as well as various armored protection levels. For more information on the INKAS® Armored Cadillac Escalade "Chairman Package", please visit the vehicle's page on the INKAS® Armored website and watch the video.