INKAS® Armored presents its products together with AZCAN at ADEX-2016
September 28, 2016

Posted by

admin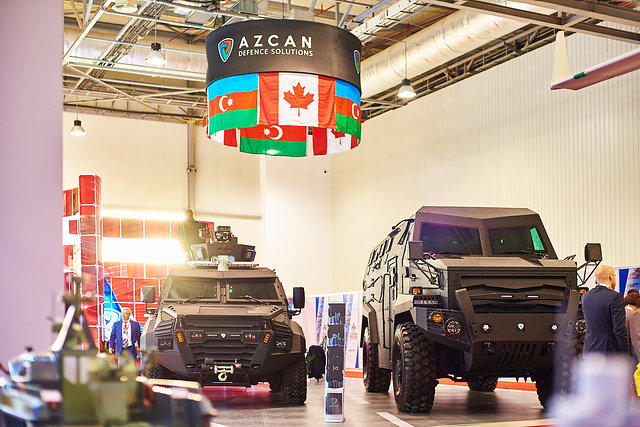 Toronto, ON, September 28, 2016 – INKAS® Armored Vehicle Manufacturing, a Canadian-based company specializing in the production of armored vehicles for private, commercial and law enforcement purposes, has introduced its new line of armored personnel carriers together with AZCAN Defence Solutions, during the second Azerbaijan International Defence Industry Exhibition (ADEX 2016) in Baku on September 27-30.
INKAS® Armored Vehicle Manufacturing is a co-founder of AZCAN Defence Solutions, which was established in Azerbaijan in order to commence the local production of armored multipurpose vehicles utilizing Canadian and Azerbaijani expertise and resources with the majority of vehicles intended for export. AZCAN primarily focuses on the design and production of special purpose peace keeping vehicles for law enforcement agencies, embassies and global corporations. Apart from armored personnel carriers, its product line also includes a wide range of other armored cars, such as executive SUVs, luxury sedans and cash-in-transit vehicles.
At ADEX-2016, INKAS® and AZCAN have presented a unique vehicle both in terms of technical characteristics as well as protection and comfort to its passengers. It can be configured into command and control, recon and surveillance or medical evacuation units depending on the client's individual requirements. In addition to this new APC, companies demonstrated three other unique multipurpose armored personnel carriers and pickup trucks.
"At INKAS®, we are honoured to present our unique products together with AZCAN at ADEX in Baku. We truly believe that Azerbaijan is a unique country with enormous technological and innovative potential. We aim to significantly contribute to its economy by building a strong local manufacturing platform in order to produce high quality defense solutions within a competitive price range for global deployment," – said David Khazanski, President, INKAS® Group of Companies.