We Get You the Best Vehicle Based on Your Profession
March 10, 2017

Posted by

admin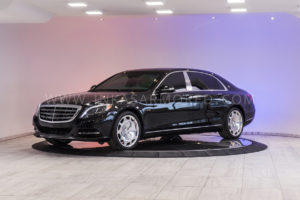 No matter the profession we choose, we all often have one thing in mind — our safety; and there are many careers where this is a real concern on a day-to-day basis.  Making use of armored vehicles is a great way to ensure safety across the board, but it's not a one-size-fits-all model.
Armored cars, trucks and vans serve a crucial role wherever and whenever valuables, property or people might become a target of theft or violence of any kind.
INKAS® Armored Vehicle Manufacturing offers secure, high-quality armored vehicles catered to professional and private usage. Based on the following occupations, here are our armored vehicle recommendations to best ensure your protection and safety on the job:
Individual usage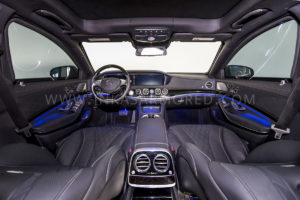 If you feel that you need extra precautions to secure your life as well as the safety of your family or loved ones, trust us – you're not alone. INKAS® offers armoring solutions for sedans and SUVs that provide both luxury and security to very important persons as well as private individuals alike. With little to no discerning differences visible on the exterior of the vehicle, only those who need to know will be aware that it is a bulletproof car.
Recently, INKAS® introduced an armored sedan based on the Mercedes-Maybach S600 that incorporates a revolutionary light-weight armor. This innovative material benefits the vehicle's maneuverability and speed performance in comparison with similar armored vehicles on the market. All materials used by INKAS® are tested for their ballistic properties by independent laboratories as well as by INKAS® engineers at their in-house firing range. With day-to-day use in mind, these vehicles are equipped with the necessary protection to sustain fire from handguns, rifles as well as multiple grenades.
Riot Control Officers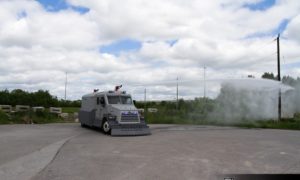 Whether you have been a part of or witnessed a riot on the news, you know that things can get out of hand very quickly. It's important to try and keep riots as civil as possible, but when things get out of control, riot control officers' lives need to be protected.
The INKAS® Riot Control Vehicle was built just for that reason. This armored vehicle was designed and built to allow law enforcement personnel to stay safe while working in extreme conditions. INKAS® has fully armored this vehicle to endure shrapnel from explosions as well as multiple high-velocity rounds.  Notable features include: chemical additive tanks, adjustable-height ram-bumper, high-pressure water pumps with regulated nozzle pressure and surveillance equipment with recording capacity.
Police Officers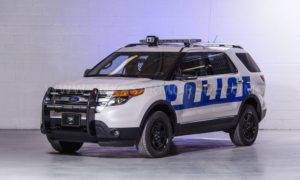 Enforcing the law comes with the task of being put into dangerous situations on a very frequent basis. The day-to-day responsibilities that a police officer needs to focus on should be his or her only concern.
For that reason,  INKAS® Armored Vehicle Manufacturing has developed the armored Police Ford Explorer that provides maximum protection, creating a safe work environment for law enforcement officers. This vehicle implements perimeter protection of the passenger compartment, reinforced hinges and other critical structure points, runflat devices, and high-quality, multi-layer bulletproof glass.
Cash In Transit Personnel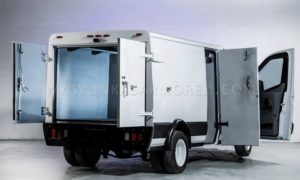 The transfer of money or other valuables in large amounts is a daunting task. With valuables of any kind, cash in transit personnel must maintain the highest levels of alertness every day since there is always a chance of criminal activity against them and in close proximity. This is why customized and fully-armored cash in transit vehicles is essential to workers' security.
The INKAS® Ford Transit 350HD is cash in transit vehicle that comes standard with the highest level of security needed for the industry. You can rest assured that your payload will remain safe due to this model's smart-locking system, integrated access control module as well as internal and external video surveillance. What's more, it can also incorporate additional upgrades depending on the customer's taste.
Prisoner Transport Officers
The transport of detainees can be dangerous for a number of reasons. Internally, the detainees themselves may pose a risk to the crew and all other drivers on the road. Externally, the vehicle may be targeted in order to hurt or release the detainees. It's imperative that prisoner transport officers are protected from both inside and outside the vehicle.
The Mercedes-Benz Sprinter 3500 was carefully designed for the secure and reliable loading, transport, delivery of prisoners. This personnel transport vehicle is armored and bulletproof up to CEN 1063 Level B6, which is able to tolerate 7.62mm ammunition assault rifle rounds. It meets all international and domestic stipulations and has actively been deployed all across the world.
Special Applications by INKAS® 
While it's very important to be protected while on the job, unfortunately not all work environments are the same. In order to provide the highest level of protection, INKAS® offers a wide range of comprehensive defensive technologies including chemical attack protection, fire, and drone detection, smoke screen systems, remote weapon control system, signal jamming as well as riot control and surveillance. With this vast range of applicability, each INKAS® vehicle meets the highest level of smart design, finest fabrication, and strict quality control in order to ensure its ongoing service in the field.
If you have any questions, please contact our experienced INKAS® support team and they will be glad to assist.