Was Yesterday's News of a Stolen Armored Vehicle Preventable?
June 8, 2018

Posted by

admin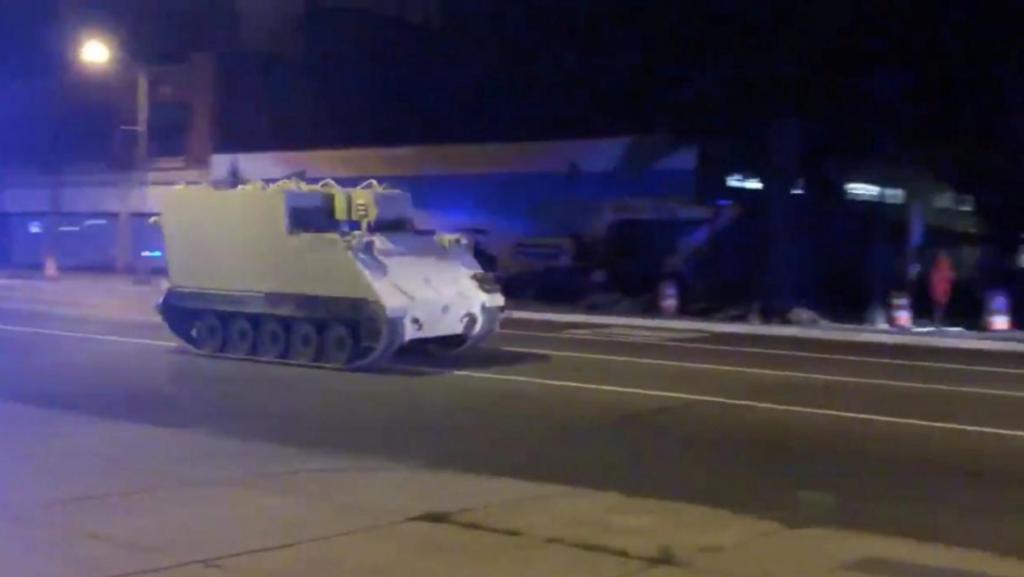 If you didn't catch the news out of Virginia this week, you might have missed the story of a police chase with a runaway armored vehicle.
On Tuesday, June 5th, police were tasked with a two-hour chase with an M577 armored personnel carrier driven by a Virginia National Guard soldier found to be driving under the influence. The chase took police along major highways, following the vehicle at a maximum speed of 40 MPH, before ending with an arrest in downtown Richmond.
The M577 armored command vehicle was taken from Fort Pickett, a National Guard base in Blackstone, Virginia. During routine training, Joshua Philip Yabut allegedly decided to drive away in the vehicle. The M577 is an armored personnel carrier (APC) and has been used by the US and foreign militaries since the 1960s.
The news was both a spectacle and a major story due to the unusual vehicle choice for a joy ride, and social media posts and videos from onlookers quickly made the story go viral. But how did this happen? Armored vehicles like the one stolen by this soldier are usually held in extremely secure conditions and equipped with all the safeguards one would expect from a military vehicle.
How Could This Situation Have Been Prevented?
This regrettable incident didn't need to happen. There is a variety of security systems that can be installed into armored vehicles to ensure this exact situation never happens. Not only is it possible to ensure that only certain individuals are able to enter a vehicle, but there are systems in place to surveil and locate any vehicle at any time.
Armored vehicle manufacturers can outfit vehicles to meet their customers' specific security requirements. Different types of security features offered today include:
Advanced Locking Systems
This feature allows for quick and integrated locking and unlocking operations for all vehicle doors, as well as guard compartments, vaults, and escape hatches.
Fingerprint Scanning
To keep unauthorized personnel from taking an armored vehicle off site during a training exercise or other circumstance, fingerprint scanning provides secure access only for selected individuals.
Vehicle GPS Locating
Armored vehicles can be equipped with tracking devices so they can be monitored in real time. This allows designated parties to be constantly aware of the location of any vehicle, anywhere in the world, instantly.
Remote Shut Off
If, for any reason, an armored vehicle needs to be immobilized quickly and safely, a remote shut-off feature can be installed within your vehicle. This is a feature the Virginia National Guard could have used to stop this car chase from entering city streets.
Cloud-Based Video Surveillance
Full 360° surveillance on an APC can not only be displayed inside each vehicle but is completely cloud-based so it can be accessed securely for live viewing or future use. This allows owners to monitor vehicles and their surroundings as well as track their routes with real-time video footage.
Biometric Scanning
This advanced feature takes simple fingerprint scanning to the next level. With the addition of a biometric scanner, armored vehicles can conduct retinal scans as well as voice and facial recognition to keep locking systems and other key functions secure.
The speed of technology in this area means that the security of armored vehicles is due to become more and more sophisticated. Armored vehicle manufacturers continuously integrate only the highest-quality and most innovative security features into their vehicles. With any one of these features, any armored vehicle owner can be confident their vehicle won't be tomorrow's headline news.
INKAS® Armored Vehicle Manufacturing is a world-leading producer of a wide range of special purpose armored vehicles, including executive SUVs, luxury sedans, personnel carriers, cash-in-transit vehicles, and others. INKAS® provides vehicles for financial institutions, law enforcement agencies, corporate clients and individuals all over the world. With the use of advanced defense technologies, we create a protected security vehicle experience for all our clients.
Photo credits: image taken from a video obtained from social media. Parker Slaybaugh.