INKAS® Exhibiting at the 2022 Land Forces Tradeshow in Australia
September 26, 2022

Posted by

Ilan Y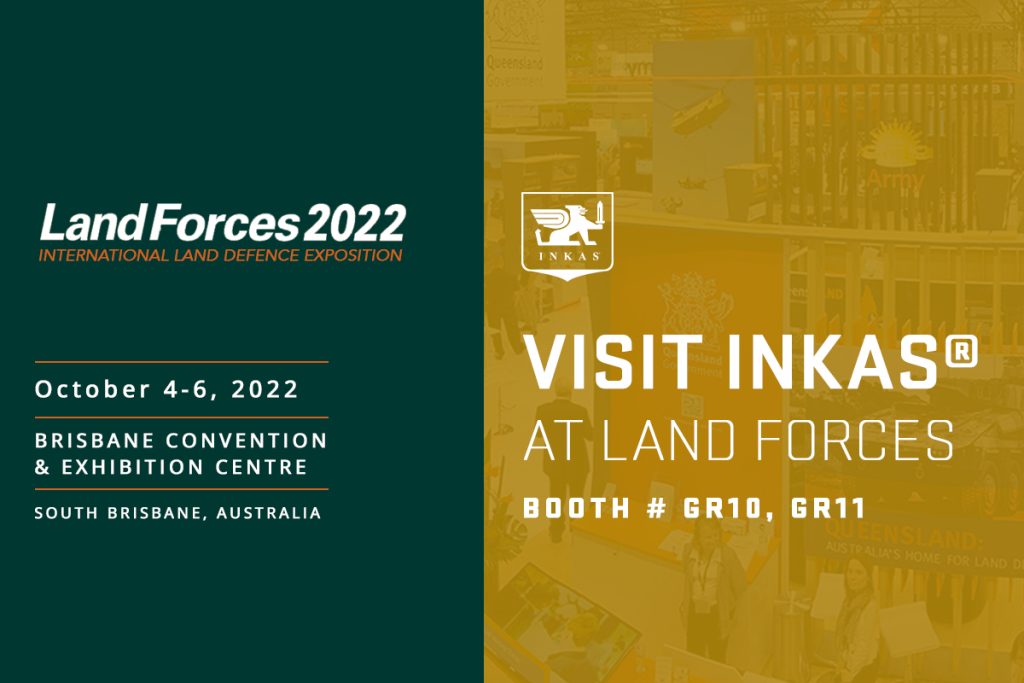 INKAS® is excited to announce it will be taking part in the 2022 Land Forces Exposition – showcasing its innovative armored vehicles and comprehensive aerospace and defense capabilities. As the region's largest land defense expo, Land Forces 2022 will bring together the international defense industry's top experts and create a platform to highlight the most advanced technology and solutions that are critical to national security in countries around the world.
As Australia undertakes its largest defense procurement period in recent history, INKAS is proud to be part of helping shape the future of Australia and the region. From the advanced security features of its precision-engineered armored vehicles, to the comprehensive aerospace and defense solutions for mission-critical operations – INKAS consistently delivers innovative new security solutions that are at the forefront of its market.
Amongst the region-specific solutions that INKAS will feature at Land Forces 2022, is the Right-Hand Drive (RHD) version of the INKAS® Sentry APC – the only conversion of a Ford F550-based APC into a RHD vehicle that has been 100% re-engineered and built in-house to ensure the highest quality control. Renowned for its maneuverability in harsh climates and challenging terrains, the INKAS® Sentry APC RHD is the ideal road-approved special purpose law enforcement vehicle for the Australian landscape.
"Our team is dedicated to protecting the lives of individuals around the world. Thus, it was crucial for INKAS to convert our most-deployed vehicle into a Right-Hand Drive version fit for road use in regions such as Australia. Despite the significant challenges presented by a full conversion, INKAS' meticulous re-engineering has successfully designed a road-ready APC for the region," said Margarita Simkin, Co-Founder and Chairwoman, INKAS® Group of Companies.

"We are proud of the dedication of our engineers, and look forward to demonstrating industry-leading solutions such as our UAV defense equipment and tactical systems at the Land Forces Expo."
In response to Australia's preparation to increase its strategic and tactical defense capabilities, INKAS will be showcasing its Anti-UAV Defense System – enabling Australia's special tactical teams to disrupt and neutralize unfriendly airborne surveillance units and other malicious unmanned aerial vehicles. The Anti-UAV Defense System is part of a wide array of best-in-class security and defense solutions that INKAS tailors to government organizations, law enforcement agencies, and other clients around the world.
With extensive experience delivering security and defense solutions on a global scale, INKAS continues to develop customized solutions that are tailored to the specific needs of each client and region. To learn more about INKAS advanced security and defense capabilities, please visit the INKAS team at booths GR10 and GR11, as well as in the static display area, at the Land Forces Expo in the Brisbane Convention and Exhibition Centre, between October 4th and 6th.
To learn more about the region-specific, Right-Hand Drive (RHD) version of the INKAS® Sentry APC, please visit the product page.
To book a meeting with INKAS® during the show, please visit the schedule a meeting page.
ABOUT THE 2022 LAND FORCES EXPOSITION
As the region's largest land defense expo, the 2022 Land Forces Exposition will host distinguished attendees such as heads of state, government officials, defense industry experts, as well as extended visits by Australia's Chief of Army and Minister for the Defense Industry. Land Forces 2022 will be a significant event influencing Australia's current implementation of state-of-the-art technology and best-in-class equipment during Australia's most substantial period of army and law enforcement optimization in recent history.