INKAS® Armored vehicle was under attack in Nigeria
July 24, 2014

Posted by

admin
Comments Off

on INKAS® Armored vehicle was under attack in Nigeria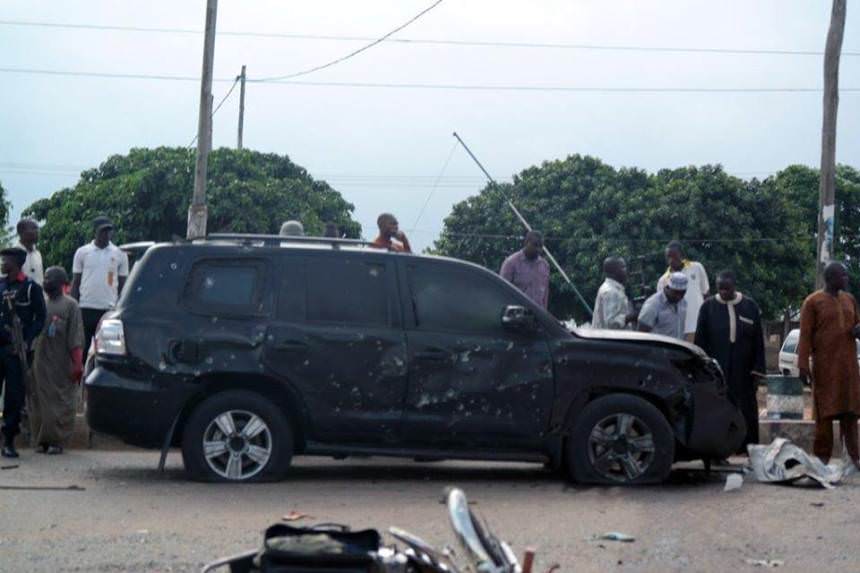 On July 23, 2014 an armored vehicle manufactured by INKAS®
Armored Vehicle Manufacturing was under attack in Kaduna, Nigeria. Zero casualties are reported among the passengers in the vehicle.
"Thankfully only a small percentage of armored vehicles delivered by INKAS® ever take fire. However when it happens, we are proud to announce that INKAS® vehicles fulfill their purpose to protect passengers from ballistic and blast treats. In the recent bomb attack in Kaduna, Nigeria, our vehicles demonstrated how they could stand up against the most severe real-life attacks. At INKAS®, we take great pride in manufacturing products, which save lives", said Philip Daskal, VP of Sales at INKAS® Armored Vehicle Manufacturing.
On Wednesday, July 23 2014, former Head of State General Muhamadu Buhari's convoy was attacked on its way to Daura, Nigeria. According to media reports, an assassination attempt came from a fast moving vehicle that made many attempts to overtake Mr. Buhari's bulletproof car, but it was blocked by the escort vehicles. When the convoy reached the market area, the attacker detonated the bomb, which damaged all three cars in the convoy. At least 20 people were confirmed dead after attack.
Mr. Buhari escaped unhurt and three aides, as well as, security personnel traveling with Mr. Buhari have been reported to have suffered non-life-threatening injuries.
In the statement published by the Premium Times, Mr. Buhari said he was the target of the bomber. "I was personally involved in a clearly targeted bomb attack today along Ali Akilu Road, Kawo-Kaduna at about 2:30pm on my way to Daura," Mr. Buhari said.
Please find more information on the attack here