INKAS® Announces New "Chairman" VIP Edition of Latest Armored Cadillac Escalade
July 26, 2022

Posted by

Ilan Y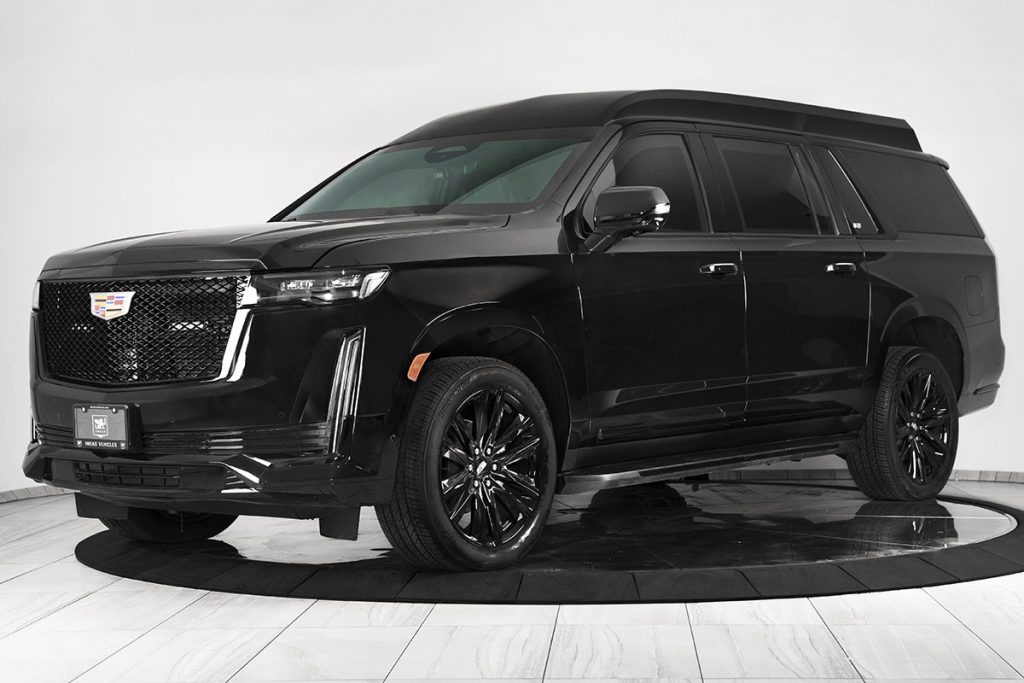 INKAS® Armored Vehicle Manufacturing is excited to release the coveted Armored Cadillac Escalade "Chairman" VIP edition – enhancing the latest generation Escalade with unparalleled security, luxurious customized interiors, and an entirely reimagined in-vehicle control system for a truly first-class experience.
With a bold and distinguished style, the INKAS® Armored Escalade exudes unquestionable authority on the road. Tailored to suit the high standards of any chairman, the VIP executive cabin showcases the finest craftsmanship with premium interior finishes, exquisitely crafted upholstery, custom pattern stitching, luxurious bar and display consoles, as well as an innovative ceiling design that emulates natural light to rejuvenate and revitalize your energy on the go – while sleek ambient lighting, refined 19-speaker audio, and brilliant visual displays create an immersive VIP setting.
The INKAS® Armored Escalade "Chairman" VIP edition raises the bar for comfort and convenience, and adds a remarkable 5 inches to the height of the cabin for a more spacious interior. From captain seats with temperature control and built-in massage systems, to an automated driver partition with a hide-away TV, to powered fold-away tables and jump seats – the newly upgraded functionality gives you full control directly from your seat.
"As the signature vehicle of the Cadillac lineup, the Escalade offers an impressive combination of performance, technology, and premium luxury," said Margarita Simkin, Co-Founder and Chairwoman of INKAS® Group of Companies. "The INKAS team is honored to add high-security armoring to the latest generation Escalade, and elevate the already lavish interior with advanced features and customized details tailored to the preferences of each client."
The Armored Escalade boasts a 6.2L V8 engine with 10-speed automatic transmission which produces 420 horsepower and 460 lb-ft of torque – with the option to upgrade to a 3.0L Duramax turbo diesel engine. Discreetly armored and meticulously engineered with reinforced suspension and structural components, the INKAS® Armored Cadillac Escalade maintains the remarkably smooth ride of the OEM model while providing full-perimeter protection. Armored to the CEN 1063 BR6 level, the Armored "Chairman" VIP edition protects the vehicle from 7.62mm assault rifle attacks, and up to two DM51 hand grenades detonated simultaneously underneath the vehicle – providing 360-degree ballistic security.

Optional advanced security features include a 360-degree camera system, nightvision cameras, satellite TV, lockable storage for firearms and valuables, heavy duty wheels, door assist systems, engine bay fire suppression systems, strobe lights, a siren/PA system, and more.
The latest generation of the INKAS® Armored Cadillac Escalade "Chairman" VIP edition is now available for special order with worldwide delivery to all major seaports, as well as airfreight upon special request. For additional information, please visit the vehicle's page here.